Thursday, December 10, 2020 / by Ali Sarno
If you have never been to our office, we have a wall filled with over 25 images of friends, family and fur-babies. We call this wall, the Family wall. It represents those that hold a special place in our heart and makes our office feel more like home rather than a place of work. This not only aligns with our core values but describes our atmosphere of making everyone feel at home.
With that said, we wanted to share how important each image is to us. Here's how our team members chose their personal photo and what it means to them…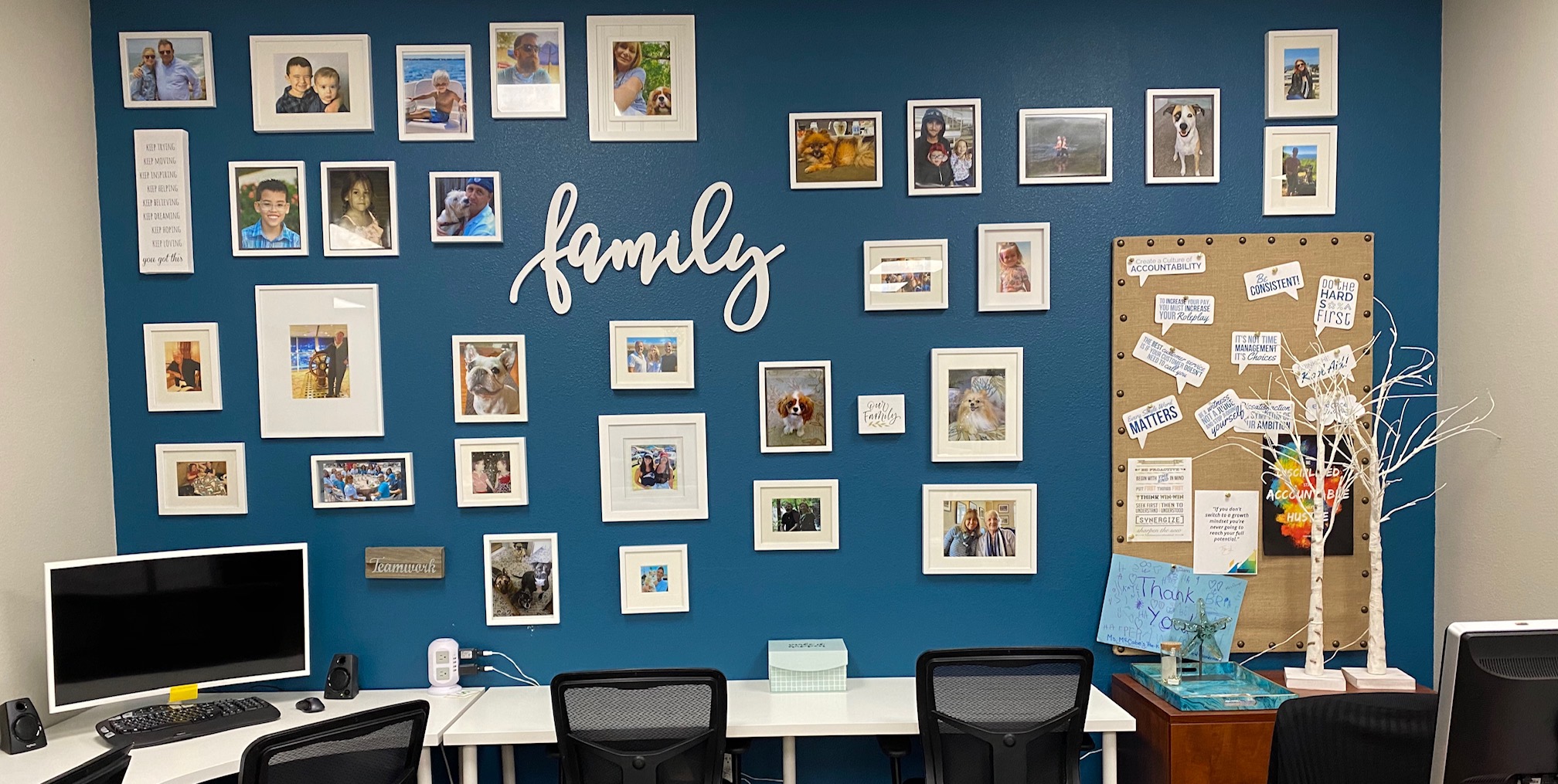 'My photo is of my son and niece holding hands at 4 years old. They are only 3 months apart in age and grew up like brother and sister.' -Karen Steil

'I chose the photo of my husband and kids because they are my heart, ?my smile, and my world.' Kelly Hamilton

'My picture is of my grandfather......he was born and raised in Dublin, Ireland. He arrived in America xmas day, 1928 in NYC. He parked cars at a hotel, ended up being a chauffeur out in Hollywood and made it back to NY as an entrepreneur. He was someone I looked up to and inspired my love of traveling and meeting new people. He encouraged me to be my own person and loved the idea of me wanting to be a Peace Corps Volunteer, which I did 3 years after he passed away.' - Carol McNamee


'My niece, Piper, reminds me how many simple pleasures there are to enjoy in life - swimming, lizard hunting, just making dinner together or doing arts & crafts. Her lightheartedness makes me want to crush it at work so I can enjoy more of those times with her. And now we have her baby sister (who wasn't born at the time of this photo) added to the mix!' -Brittany Adamson
'My daughters, twins, Kelly and Katy, in their Patriots gear (they were at the Miami/Pats game - I think this was 2018 or 2019) Henry, is my Pomerian dog, 6 years old, and my true companion.' - Debra Campbell
'Bowie and Ryan are on the wall because those are my two travel buddies. Although, 2020 has hindered a lot of our travel and I can't travel internationally with Bowie. Those are my two dudes and our little family that we've created. The three of us have our routines and we easily conform to our surroundings. Ryan is on the wall because he is my partner In life, "crime" and of course work. He makes me work harder because we have a common goal for the future and because....I love him with my whole heart and soul.' -Amy Moreau
'The photos on the wall are of my two "littles". The reason they are there is to remind me that they are the reason I get up and go to work everyday. I want them to learn hard work pays off and I want to give them every opportunity imaginable this world has to offer.' -Niccole Febres-Cordero
'Chris and Mickey on a trip in the Blue Ridge mountains. I believe there's a waterfall behind us.' -Chris Ritman
'My photo is of my husband and my daughter (last child at home) in Torrey Pines. They are with me everyday and bring me great joy and a reason to be the best I can be.' -Julia Deptula
'I'm a long time empty nester, who has a beautiful family. However, I chose a photo of my mini pom Boo because she's the little soul I wake to and go to bed with, and she makes me smile and laugh every single day.. ' -Mary Cotoia
'My picture has everything I love and is special about my life - my husband Billy, my puppy Bidzy Bumper and the beautiful surroundings in which we all get to live, work and play everyday!' -Kelly Bruno
'My picture on the wall is of my two boys. They are my world and everything I do is for them. They're also very cute.' -Melissa Walters
'I chose a picture of my son on our boat in the Indian River with the sun shining down on him. The image epitomizes everything my family loves about our florida lifestyle; boating, sunshine, and everything water related.' -Elise Johnson
'My photo is of my mother and I in England (her homeland). Every year we do a mother/daughter trip and that photo is from our visit back "home" to see her surviving siblings and nieces/nephews. One nephew and his wife took us around northern England and into Scotland where that photo was taken, a small restaurant in a quaint little village in Scotland. My mother is my best friend and has been my biggest supporter in all my life choices, whether she agrees with them or not....lol.' -Michele Barwick
'My husband, Chris, and my dog, Luna, are in the photo I chose to put on the wall. They are two of the most important things on this planet to me and that picture of them together makes me smile.' Nichole Barna
'I chose that picture because they are the family I see every morning and every night.' -Kristen Robinson
'My picture of Amy is of our trip to Germany, Austria, and Hungary 2 years ago. I love this photo of her and it reminds me of one of our many adventures together.' -Ryan Moreau
'I chose a picture of Jackie and Punkin because Punkin is the definition of pure love and she is the K9 clone of Jackie.' -Jonathon Williams
'I love seeing Nugget's face in the middle of my workday. He always makes me smile.' Christina Griffin
'I chose to share my 4 dogs- Mollie, Gatsby, Augie and Jackson because they are a huge part of my life. They are all unique in their own way and make me smile everyday.' Ali Sarno
'This photo of my wife and I fishing in the Toccoa River was taken just after I had quit my job and right before I started my new career in real estate. We were taking some time off in GA to unwind and spend some much needed time together. The photo is a good reminder that we will always have each other's backs no matter what new challenges we're growing through.' -Brandon Thompson
'My husband and 2 children are on the wall because they are my world. They are there as a reminder of hope and encouragement. They build me up when I'm down and fill my life with love, happiness, and everything in between.' -Katy Foster
We hope you enjoyed hearing about our Family wall. Hopefully it gives you inspiration for a Family wall at your home or place of work!
Florida Lifestyle Team
Cape Canaveral, Florida
(321)613-5922